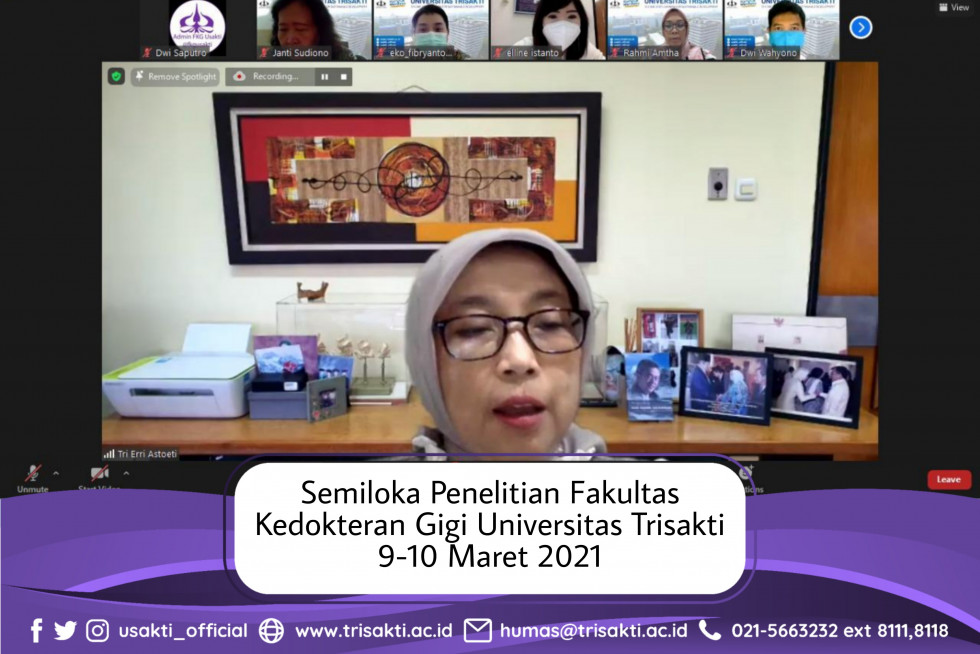 Universitas Trisakti's Faculty of Dentistry Research Seminar and Workshop
On 9-10 March 2021, the Faculty of Dentistry (FKG) Universitas Trisakti held a series of events of Research Seminars and Workshops. The event was a follow-up to the Coordination Meeting of the Research Council of the Faculty Community Service (DRPMF) regarding proposals and internal research progress reports for the 2021/2022 academic year.
The event was opened by the Dean of Faculty of Dentistry (FKG) Universitas Trisakti Prof. Dr. drg Tri Erri Astuti, M.Kes, and continued with remarks by Deputy Dean I/Head of DRPMF FKG USAKTI drg. Wiwiek Poedjiastoeti, M.Kes, Sp.BM, PhD. The seminar and workshop activities were presentations of research proposals by FKG lecturers, followed by discussions with the speakers. The event was attended by research lecturers from all parts of FKG at Universitas Trisakti.
Hopefully, the Seminar and Workshop events can improve research among the FKG lecturers in accordance with The Three Pillars of Higher Education at Universitas Trisakti.