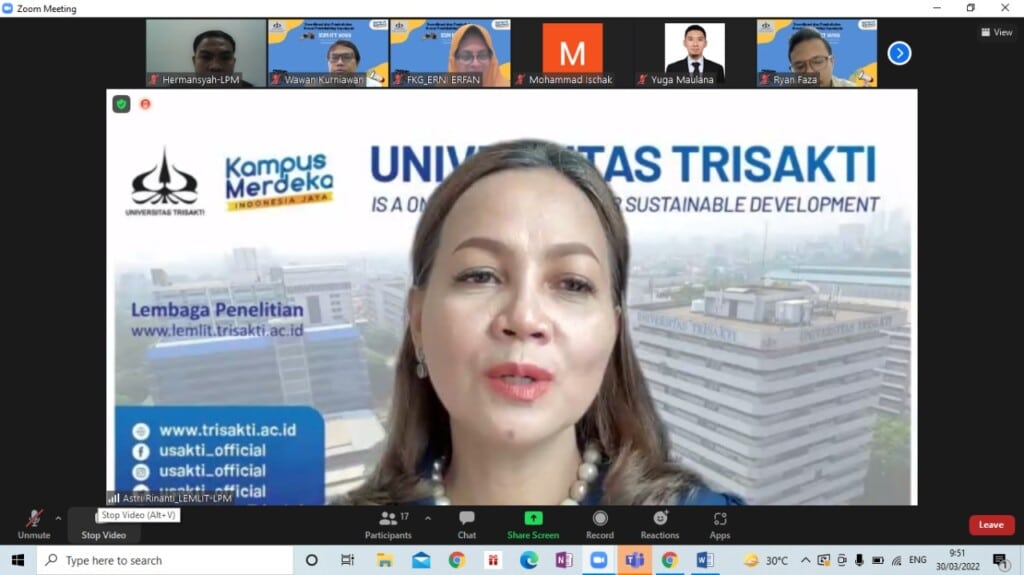 Coordination Meetings and Briefing of the Field Supervisors about Independent Business – Applied Technology (KUM-ITT 2021/2022)
Even Semester School Year 2021/2022
Community Service Institute of the Universitas Trisakti held a Coordination Meeting and Briefing for Field Supervisors on the Subject of Independent Business – Science of the Applied Technology (KUM-ITT 2022) on Wednesday, 30 March 2022 via an online meeting.

The speaker on this agenda was Dr. Astri Rinanti, MT (Director of LPM), Dr. Ir. M. Ischak (Secretary of LPM), and Ir. Wawan Kurniawan, MT (Head of KUM-ITT). Dr. Astri Rinanti Nugroho, MT said that the KUM-ITT is an optional subject that allows students to directly interact with the community, which surely requires guidance from the Field Supervisors (DPL). The DPLs have a role in directing and providing solutions to problems throughout the KUM-ITT program. It is hoped that through the guidance, students will produce new outputs from the event, for instance, papers in scientific journals.
A presentation on the Definition, Philosophy, and Purpose of KUM-ITT was delivered by Dr. Ir. M. Ischak, whereas Ir. Wawan Kurniawan, MT, IPM presented the Theme of KUM-ITT for this year, which is 'Empowerment of Community Economy during COVID-19 Pandemic'. The theme was chosen due to the enthusiasm of students of Universitas Trisakti to solve problems faced by small enterprises (UMKM) during the pandemic.
The partnership between Universitas Trisakti and UMKMs through KUM-ITT in 2022 has reached 14 partners. In addition, the meeting also presented the technical implementation of KUM-ITT 2022. The outputs of each of the groups are IPR copyrights, videos of events that were uploaded to YouTube, and scientific journals. The DPL lecturers of KUM-ITT 2022 are Dr. Wahyudi Siswanto, SH, MH (FH), Dr. Erni Erfan, S.Pd, M.Biomed (FKG), Shafrani Dizar, SE, Ak, MM (FEB), Ryan Fasza, ST, MT (FTSP), Reza Fauzi, ST, M.Ars (FALTL), Drs. Harris Effendi, M.Ds (FSRD), Yuga Maulana, ST, MT (FTKE), Muhammad Fadlan, ST, MT (FTI), and the heads of LPM. The coordination meeting ended with the hope that the implementation can go as planned, along with the end goal that the UMKMs can improve themselves independently.