Research Roadmap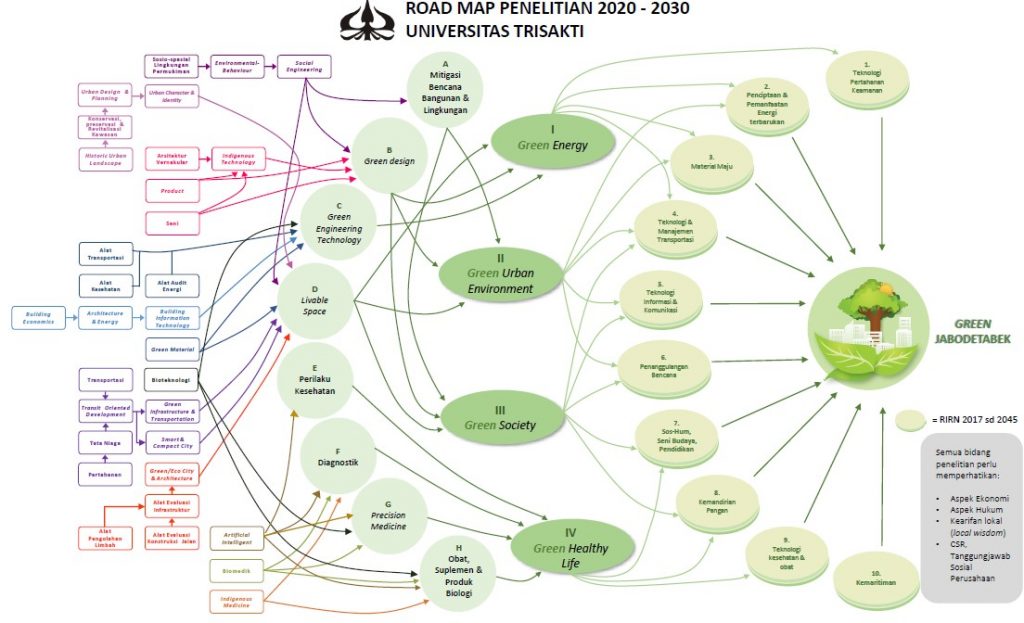 Universitas Trisakti's location in the urban area (Jakarta and Jabodetabek) signifies the grand design of research as compiled in the Universitas Trisakti's Research Master Plan. The Research Master Plan has accommodated the 2017-2045 National Research Master Plan, which outlined ten research foci, each with 3-5 main topics as follows:
Food-Agriculture
New and Renewable Energy
Health-Medicine
Transportation
Information and communication technology
Defense and security
Advanced Materials
Maritime
Disaster
Social Humanities-Cultural Arts-Education
Within its Research Master Plan, Universitas Trisakti is expected to contribute in making the city of Jakarta and the Jabodetabek region as Sustainable Green Jabodetabek within the period of 25 years.
In relation to the vision and mission of Universitas Trisakti, the Research Master Plan outlines four Main Research Foci, which includes:
Green Energy
Green Urban Environment
Green Society
Green Healthy Life
To implement the Universitas Trisakti's Research Master Plan, a Technology Road Map is designed, containing future strategic steps needed to achieve this goal, referring to urban environmental issues which are supported by institutional excellence and the expertise of its researchers.