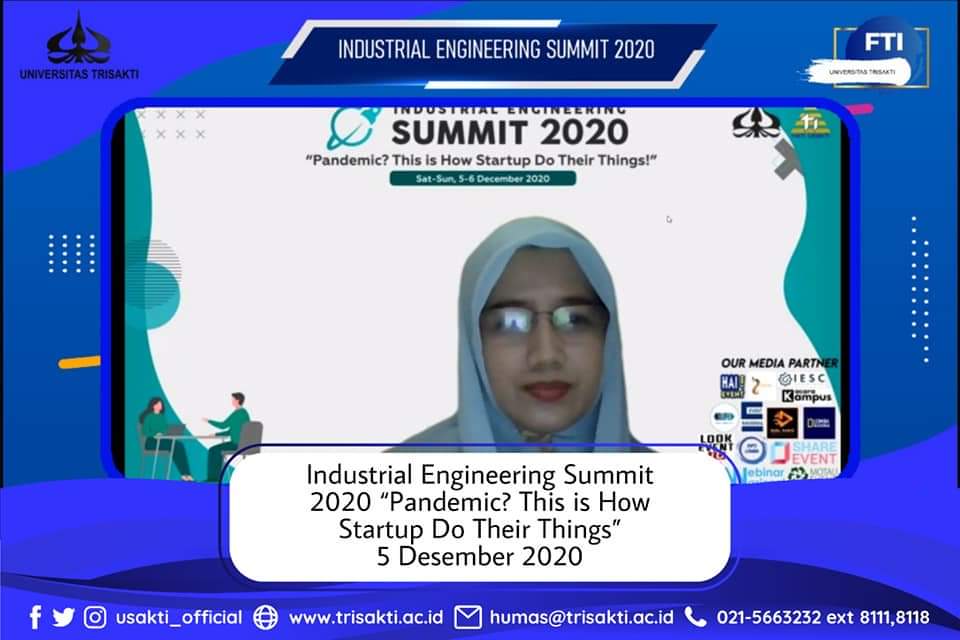 Industrial Engineering Summit 2020; "Pandemic? This is How Startups Do Their Things"
The Industrial Engineering Student Association, Faculty of Industrial Technology, Trisakti University held a Webinar and Workshop with the topic "Pandemic? This is How Startups Do Their Things" which was held online on Saturday, December 5, 2020, via Zoom and Youtube live.
The event began with remarks from Yosua Kristanto as the Chief Executive, Dr. Rina Fitriana, ST, MM, as the Head of the Industrial Engineering Department of FTI Usakti, and Ir. Amal Witonohadi, MT, as Vice Dean III FTI Usakti. This event presented 4 speakers, namely:
Ivan Arie Sustiawan (CEO of TANIHUB GROUP)
Suryono Sasono (Project Leader at Boston Consulting Group/BCG)
Kevin Susanto Goly (CEO & CO-Founder at Woogigs Indonesia)
Apung Sumengkar (Builder of KLOB ID and Daya Qarsa)
This webinar and workshop activity is in the form of delivering material from the speakers regarding the steps and innovations taken by startups engaged in IT and Industry during the COVID – 19 pandemic. The event continued with a question and answer session from the participants to the speakers.