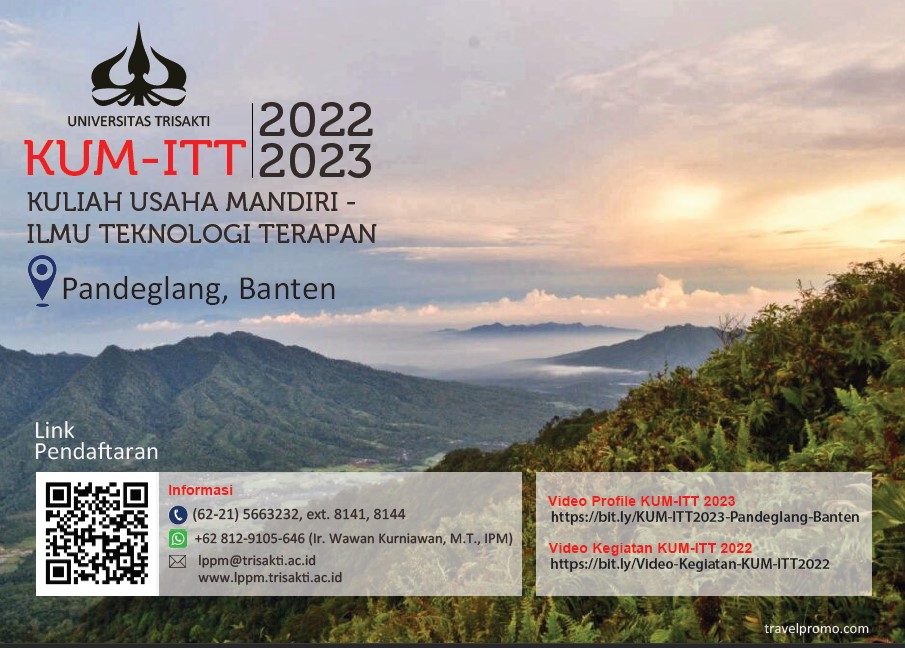 INDEPENDENT BUSINESS COURSE – APPLIED TECHNOLOGY SCIENCE (KUM-ITT) TA 2022/2023
Universitas Trisakti's Research and Community Service Institute (LPPM) invites USAKTI students to take part in the offline Independent Business Course-Applied Science and Technology (KUM-ITT) FY 2022/2023 in Pandeglang Regency, August 3-15, 2023.
KUM-ITT is a field course that provides opportunities for students to interact directly with residents, support village communities, and implement their knowledge to optimize natural and human resources in a real way based on local wisdom.
How cool and interesting is KUM-ITT? Watch the KUM-ITT 2021/2022 profile video at the link: https://bit.ly/KUM-ITT2023-Pandeglang-Banten
KUM-ITT plays a role in achieving the second Key Performance Indicator (KPI #2: Universitas Trisakti's students acquire off-campus experiences) and KPI #3 (field supervisors conduct off-campus activities).
KUM-ITT registration time: January 30 – March 12, 2023.
Student registration can be done by students directly through the link https://bit.ly/Pendaftaran-Peserta-KUM-ITT2023 or please scan the QR listed.
Further information: Head of KUM-ITT Center (Ir. Wawan Kurniawan MT, IPM – 08129105646)